St Clement's Church at Rodel, Isle of Harris
Outer Hebrides (Western Isles)
All photos Copyright The Internet Guide to Scotland
Cruciform in shape, the church was built around 1500 by the Macleods of Dunvegan and Harris. In 1784 the church was rebuilt by Captain Alexander MacLeod. Three years later there was a fire and he had to repair his work. In 1873 it was restored under the orders of the Countess of Dunmore. Today it is in the care of Historic Environment Scotland. It is thought that the sandstone used inside and around the windows might have been imported from Carsaig on Mull.

In days gone by the key used to be held at the local hotel where visitors had to go and fetch it. Nowadays, with so many visitors coming here, the key is kept attached to the door. Inside to the right of the entrance is a marble plaque noting the restoration by the Countess of Dunmore.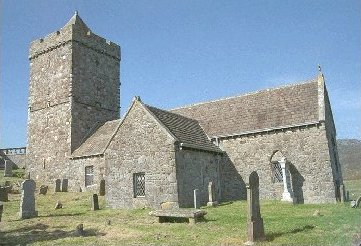 Today, at 20 metres long and 5 metres wide, the nave runs directly into the choir, but these might originally have been divided by a timber structure. In the north transept four graveslabs are displayed against the wall. These were moved from their original position in the choir floor to protect them. A fifth graveslab came from a caibeal outside near the tower.

The church's main point of interest are the three tombs carved in black gneiss depicting knights in armour. One of these is the tomb of Alisdair Crotach, the 8th Chief of the MacLeods of Dunvegan, who had it sculpted for himself 19 years before his death in 1547. It is decorated with well-preserved panels containing carvings of the 12 Apostles, angels, the Holy Trinity, the 4 Evangelists, a 12-rayed sun, the Virgin and Child, bishops (one is probably Saint Clement), a hunting scene (possibly representing Crotach himself) with dogs and deer, a castle and galley (MacLeod emblems) and Saint Michael and the Devil at the weighing of souls.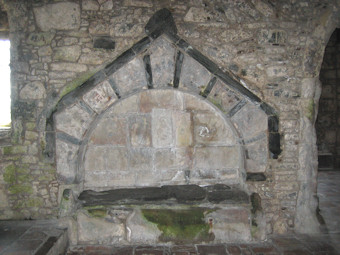 | | |
| --- | --- |
| | The square tower of the church is a unique architectural feature in these parts. Rising 20 metres above the floor of the nave, it was built on a crop of rock which makes it stand at a higher level than the rest of the church. This soon becomes apparent when you climb the dark staircase and see that the first chamber has a door leading to the outside. Continuing up the dark staircase of the tower you reach the second chamber where a wooden ladder takes you into the third chamber where yet another ladder takes you to the top. |
| | |
| --- | --- |
| When you go into the graveyard, take a look at this door from the outside. Above it is the carving of a bishop (possibly Saint Clement himself) who is supported by a bull's head. Panels to the left and right show various figures. One of these is the earliest known representation of a man in kilt and plaid. The graveyard contains several 'cabeil' (private burial enclosures). Many of these are for prominent local families. | |
Due to the large number of visitors and bus trips that come here, toilets have been built near the church. If you approach from the east, you will see them easily enough. The outside is decorated with flowers in the summer (enclosed by a fence to keep the sheep out).

For more local info, see the Isle of Harris page